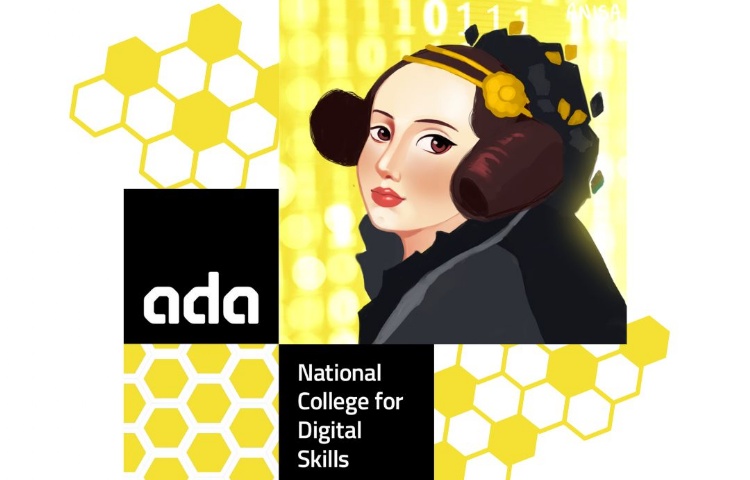 A lot seems to have happened since Ada Lovelace Day 2019. Last year, our annual celebrations took place in our Sixth Form college in Tottenham. Dozens of people gathered, without a fask mask in sight (gasp!), chatting within a meter of each other (double gasp!) and the words 'lockdown', 'Covid' and 'social distancing' had no meaning. It was (as our ALD celebrations always are) a fun-filled event, full of insightful talks and inspirational conversation, all in celebration of our namesake Ada Lovelace, women in tech, and Ada college itself. This year, despite having to celebrate from our laptop screens, we virtually replicated Ada's biggest event of the year, and it was bigger than ever!
Ada Manchester
The success of Ada, the National College for Digital Skills over the past 4 years has paved the way for our first foray outside of London. Our ALD 2020 celebrations were combined with our official launch of Ada Manchester, as people 'zoomed in' to join our virtual ribbon cutting ceremony and subsequent Women In Tech panel discussion. We kicked off with our Introduction to Ada Manchester video, which gives a really good insight into the importance of digital skills and why Ada is the perfect fit for Manchester:
We were proud to have Greater Manchester Mayor, Andy Burnham, join us to discuss the importance of digital skills and what Ada will bring to the area:
In this growing digital economy we now have a national digital skills provider that is able to equip the coming generation in Manchester with what they need to find their place in that £5 billion digital economy.
Watch more of what Andy had to say about Ada:
On ALD 2019ALD 2019, we welcomed our new Chair of the Board, Tiffany Hall. And now, a year on, Tiffany expertly compered our virtual event and joined our Women In Tech panel discussion between:
Vim Appadoo, Co-Founder & Chief Culture Officer at Honey Badger
Lou Cordwell OBE, Founder and CEO, Magnetic North & Co-chair of the Greater Manchester LEP
Marium Abid, Digital Analyst at EY and Ada alumna
Iwona Szmidt, Managing Director; FX Operations, Global Technology and Operations Bank of America
It was an inspiring and interesting discussion focussing on how we can support the younger generation in such turbulent times. Currently, it often feels as if we're all existing in the gloomiest end of the Doom And Gloom Spectrum, and so it was refreshing to hear the optimism with which these distinguished women spoke about the future. As Vim put it,
There's an opportunity to rethink what the world can be, and open up the doors for different people to solve problems. Let's use this time to create a new world we can all thrive in.
Finally, we ended our virtual event with our Sixth Form Student Voice who spoke to us about what makes Ada special, their aspirations, and how Ada is helping them achieve their goals. They then played us a brilliant video created by the Creative Digital Media students which shows Ada's Sixth Form and its students back in the college after a challenging few months:

Instagram Takeover & Wikipedia Editathon
We heard from even more Women In Tech over on our Instagram page during a week-long takeover event on our Instagram stories in partnership with Deloitte's Women In Tech Heroes event. We heard from women at Deloitte, Amazon Web Services, and Salseforce who, over the course of four evenings, answered our followers' questions on diversity, being a woman in tech, and apprenticeships. Head over to our Insta profile to view the highlights on our highlights reel!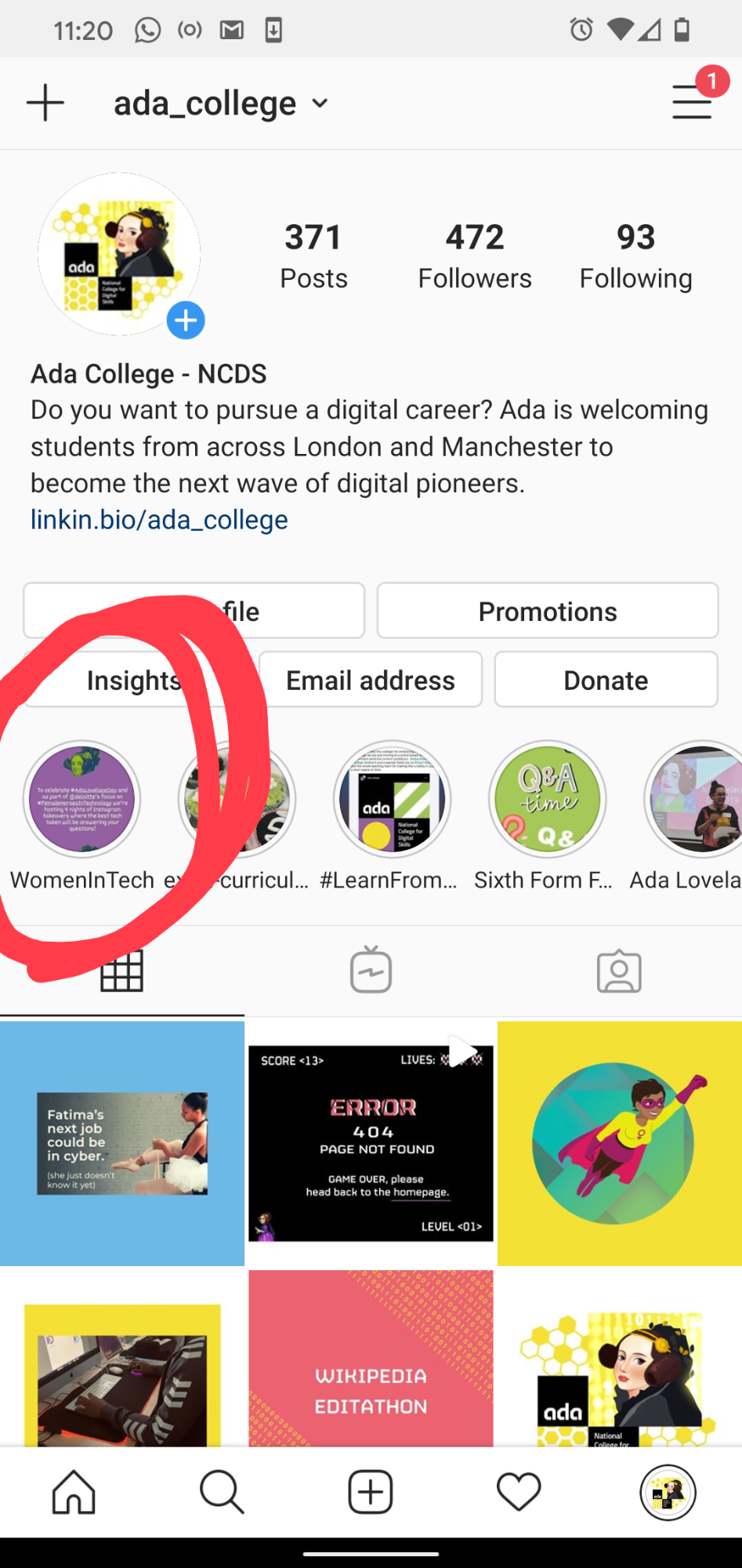 Did you know only 17% of biographies on Wikipedia are of women? To help us celebrate Ada Lovelace Day, we hosted a virtual week-long Wikipedia Editathon to increase representation on the world's largest encyclopedia. We are strong believers that 'you can't be what you can't see', and issues like poor representation on Wikipedia is both created by, and contributes to, lack of diversity in many sectors. People from across the country logged on virtually to edit and improve existing pages, and even create brand new ones such as, Edda Sveinsdottir, Denmark's first female computer scientist who didn't have a page (her husband did though *eye roll*).
Missed our Editathon? Not a problem. Wiki Editing is for life, not just Ada Lovelace Day! Check out our How-To guide at the bottom of this article, and become a Wikipedia Editor (we're thinking about getting jackets).
#Ada404 competition
We rounded the week off announcing the winner of our #Ada404 competition. We asked our followers and students to submit design entries for the 404 page on our new website. The judges (including Robert Mackenzie, Director of Visual Development at King Games) were super impressed with the quality of work submitted and, after much deliberation, named 'Game Over' by Ada's own year 12 student Danny, the winner. The judges loved the fun and humorous design with the glitching Ada bouncing around the screen. A perfect way to end a week of Ada Lovelace Day celebrations!

A huge thank you to Greater Manchester Mayor, Andy Burnham as well as the Manchester Industry Advisory Board, for their support during our Ada Manchester Launch event. Thank you to our Chair of the Board, Tiffany Hall for compering the event. To all of our industry partners and volunteers from Deloitte, Bank of America, EY, Salesforce, Amazon Web Services, and King Games, as well as our fantastic panellists and Instagram speakers, thank you for sharing your words of wisdom and helping us celebrate our namesake, Ada Lovelace. And finally thank you to Ada's staff and students for helping us put on a successful week of celebrations.