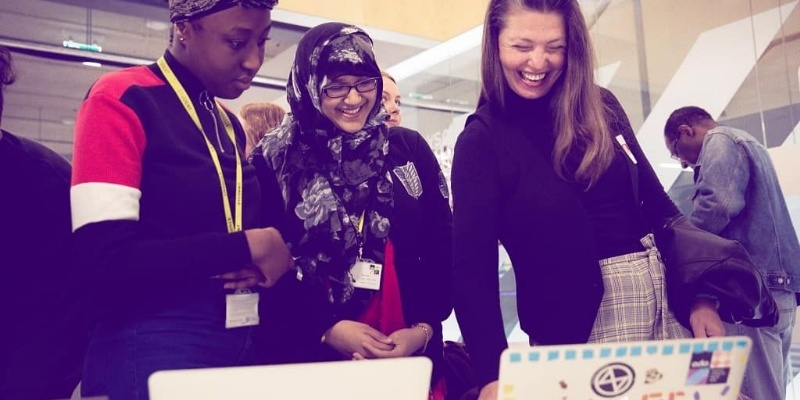 Once again Ada, the National College for Digital Skills opened our doors to celebrate our favourite day of the year: Ada Lovelace Day. This year, we had such a jam-packed schedule that we celebrated our namesake over two days and across our two London campuses. Ada Lovelace Day is an important day not only to recognise the brilliance of Ada herself, but also the achievements of all women in STEM; from the first woman in space (Valentina Tereshkova), to the first woman to win a Nobel Prize (Marie Curie), to the girl that just wrote her first line of code.
Speed mentoring session
We kicked off with our Women in STEM Speed Mentoring Session at our Sixth Form campus in Tottenham Hale. Here, our students got the opportunity to speak with women at the top of their careers in tech. Moving from table to table, students learned how these women have succeeded, what they enjoy about their job, and the challenges they have faced along the way. Our students are at a point in their lives where they are thinking about their own futures and prospective career paths, so gaining these pearls of wisdom from women who have already tread that path was beyond valuable.
A huge thank you to the women in STEM from our industry partners, Bank of America, Salesforce, and Deloitte - amongst many others- who volunteered their time to have these all-important conversations with Ada's young people.
Evening Celebration
Following our Speed Mentoring Session, we hosted an evening celebration where we heard from some inspirational women in tech, and our students showcased their work to visitors. The evening's speeches were compered by Ada's board member and Managing Director of Microsoft Startups, Amali De Alwis. We heard from our very own student president, Andrea Rodrigues, as well as Salesforce's Emma Richards on the importance of diversity in industry. We then heard from Seyi Akiwowo, political activist and founder of Glitch, a non-profit aimed at ending online abuse and harassment. She gave an impassioned speech urging our young people to stay true to their authentic voice, whatever path they choose to take. Finally, we welcomed Ada's newly appointed Chair, Tiffany Hall. To find out more about Tiffany, see our full blog post here.
Thank you to all of our speakers for their inspirational stories and insights, you made the evening a night to remember!
Wikipedia Edit-a-thon
The following day, at our apprenticeship campus in Whitechapel, Ada took part in a global Wikipedia Edit-a-thon to improve gender diversity on the world's largest encyclopedia. It is a sad fact that only 17% of the biographies on the English language Wikipedia are of women, and only 9% of Wikipedia editors identify as women. To tackle this, groups of women have been gathering together to collaboratively research and edit Wikipedia; otherwise known as edit-a-thons. In aid of Ada Lovelace Day edit-a-thon hubs across the world, from New York, to New Zealand, to Manchester and London, participated in increasing the representation of women in STEM on Wikipedia. At our London hub we learned how to edit Wikipedia (it's actually surprisingly simple; take a look at our handy how-to guide below), contributing eight brand new biographies and improving dozens of existing pages. What a way to honour Ada Lovelace Day!