How An Apprenticeship Can Transform: A Q&A
Tyrone Corsinie and Tom Fogden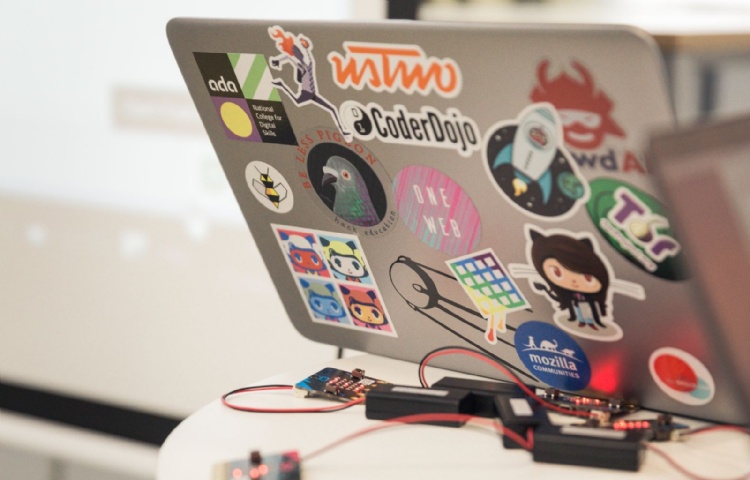 National Apprenticeship Week is upon us once again, and we're so excited to be spending the week celebrating all things apprenticeships. Today, our Dean (Tom) and Head of Apprenticeship Programmes (Tyrone) discuss apprenticeship myths, top tips for those applying, and what they love most about apprenticeships.
Check out our A-Z of apprenticeships here.

What apprenticeship myths do you think need debunking?
Apprenticeships vs University: Both have their merits, and both are excellent pathways to a prosperous career. With a wide range of degree-related apprenticeships available now the tide is starting to turn regarding their value as an alternative to the traditional route of university education. - Tyrone
I think some employers still think of apprenticeships as primarily a pathway for blue-collar jobs, and not an innovative way to solve their tech talent challenges. - Tom
What is your favourite thing about working with apprentices?
Watching the growth, personally and professionally, of the apprentices through their journey over the 2 or 3 years. Seeing the impact they make in their organisations and the roles they play in the myriad of projects they work on, never ceases to amaze me. - Tyrone
We often see our apprentices join us as eager sixth form graduates and then watch as they transform into professionals in a matter of months; it's truly astounding. - Tom

What tips would you give someone applying for an apprenticeship?
Research, research, research! Research the organisation, research the job role, research the apprenticeship standard and (if known) research the training provider. This will be an important step in starting your career, so you want to make sure you're with a supportive organisation, in the right role, and learning the skills required to make that first step a success. - Tyrone
It's not like universities. Employers don't come to you once you have completed a personal statement: you need to chase down opportunities throughout the year not just at the end of the academic year. Another tip would be to differentiate yourself from the crowd- each employer's recruitment process is different so they'll be looking for tailored applications rather than a one-size-fits-all personal statement. - Tom
What sort of careers can a digital apprenticeship lead to?
Digital roles are ever evolving, and so are the careers available in relation. There are job roles that haven't been dreamed up yet, but in a couple of years time they could be commonplace. Digital roles are not limited to technology companies, they are within every sector imaginable. - Tyrone
All companies are becoming more digitised but, right now, there isn't a workforce that has the right skills to keep up with demand. Because of that, one thing that unifies tech roles is that they are growing in demand and the salaries are very competitive. - Tom
What is a more challenging aspect of doing an apprenticeship?
Juggling working life with study is always a challenge. Being prepared and organised is a big help towards balancing the two effectively. You will need the support of an employer, a colleague, or your training provider at times, but that is a natural part of the process. - Tyrone
Apprenticeships are no longer the brilliantly kept secret. More and more people are becoming aware of these unique opportunities and they are getting increasingly competitive to be selected for the top companies, so it's all the more important that you take the time to make your application stand out. - Tom
Why do you love apprenticeships?!
I have witnessed apprenticeships give so many opportunities to people who were unsure about their futures. I have championed apprenticeships for the last 15 years and the success stories are a real motivating factor for me to continue championing them for the next 15 years! - Tyrone
They are genuinely life changing. If you are lucky enough to get an apprenticeship, you can set your whole life trajectory on a higher course and catapult your career! - Tom