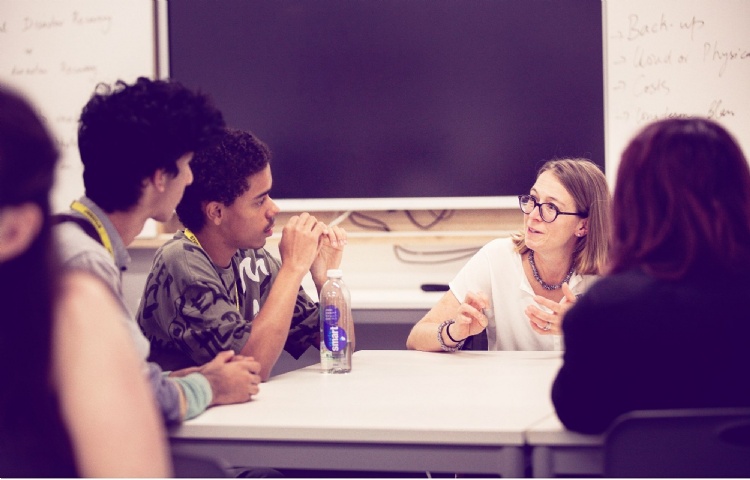 Ada Lovelace. We're named after one of history's greatest digital pioneers and the world's first computer scientist. Read more about our annual celebration of Ada here.

Block release. Our apprentices spend 6 weeks with their employer, followed by one week at the College, allowing them to deep dive into their real-world workplace projects.

Coaches. Dedicated skills coaches are there for our apprentices throughout the programme and are there to help them with everything from work readiness to their latest assignment.

Data Analytics. One of three pathways offered by the College, perfect for those looking for a career in data analysis and visualisation.

Employers. We are partnered with employers in a range of industries, including professional services (Deloitte), finance (Bank of America) and technology solutions (Salesforce).

Future-thinking. We're preparing our apprentices for the future, by offering industry-driven teaching focused on solving tomorrow's problems, today.

Growth. Many of our apprentices come from non-technology backgrounds, but we equip all of our learners with the technical, creative and entrepreneurial skills needed to thrive in tech.

Holiday. No matter how incredible an apprenticeship is, everyone needs a break! As apprentices, our learners are entitled to annual leave, just like other employees at their company.

Immediate impact. During the programme launchpad we hold work readiness training and teach the key technical knowledge needed for our apprentices to contribute to an employer from day one.

JustApply. Aspiring tech apprentices can register with us at ada.justapply.co.ukada.justapply.co.uk to hear about our latest vacancies and opportunities.

Kickstarting careers. The combination of rigorous academic training with 2-3 years of work experience catapults our apprentices into fantastic tech careers.

Living Wage. All of our employer partners pay apprentices at least the Living Wage, ensuring you are fairly compensated for the contributions you make.

Modules. Our lecturers teach topics from the cutting-edge of technology, such as Big Data and Artificial Intelligence.

Nationwide. We have campuses in both London and Manchester, reflecting our position as the National College for Digital Skills.

Opportunities. Move into an industry where opportunities abound, with over half of the UK's tech community reporting a shortage of skilled employees to recruit from.

Prospects. Apprentices are estimated to earn around £118k more over the course of their lifetime than individuals with Level 3 qualifications only.

Quarterly reviews. We know it's vital that we work closely with your employer, so you'll meet quarterly with your manager and skills coach to ensure you're on track for success.

Real-world. Ada apprentices work on real-world projects with genuine business applications while with their employers.

Software Developer. Another of our degree program pathways, ideal for those pursuing a career in software, app or web development.

Tech Consultancy. Our third pathway for our degree programmes, which closely integrates the technical and entrepreneurial aspects of the digital world.

University degree. We offer a two-year Foundation Degree and a three-year BSc, both validated by the Open University.

Values. Everything we do at Ada revolves around our five values: creativity, curiosity, collaboration, rigour and resilience.

Wages. Earn while you learn, getting a salary from your employer whilst working towards your degree.

X (cross)-industry cohorts. Ada apprentices can start developing their professional network whilst training with a cross-industry cohort working in their field at other employers.

Your choices. With three degree pathways, a two- and three-year course and a range of optional modules, you're in control of your Ada experience.

Zero. The amount of tuition fees you will pay for your degree.