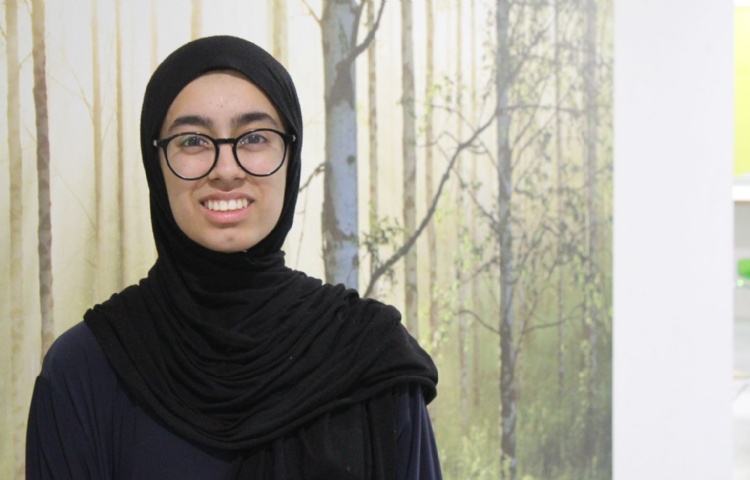 I've been lucky, but I would say to any girl, if this is what you want to do, then go for it. It's a great career.
---
An inspiring student-led workshop on how to code an animated Christmas card sparked computer-loving Maariyah's interest in a digital future.
Maariyah considers herself very fortunate that the teachers at her all-girls school in London encouraged her to believe she could build a career in tech. They had close links with Ada and alongside the outreach workshop, Ada attended the school's annual careers events, through which Maariyah became convinced this was the college for her.
"I looked at lots of different options, including some closer to home, but I had wanted to pursue a degree apprenticeship from a young age and other colleges were so focused on university, and gaining Russell Group places, I did not feel they would have the knowledge I needed, or give me the right support. I didn't know anyone who had taken a degree apprenticeship and needed lots of help. I knew if this was what I wanted to do, then Ada was where I should be."
The experience of Ada's teachers also stood out.
"You knew they had real experience, had coded real products that you'd heard of, for example. So, it made lesson time more valuable."
Alongside her BTEC Diploma in Computing and Business Studies A Level, Maariyah believes Ada gave her a huge amount of relevant industry-based experience that was key to her securing an apprenticeship as a Data Analyst with PWC, which is sponsoring her four-year degree course in Digital and Tech Solutions.
"Ada's Industry Projects were amazing. We got to meet so many professionals from Deloitte, Salesforce, Bank of America and having their direct insights into what the industry is really like was incredible. Through the projects, you also get to develop personal skills: how to work in a team and get along with people's different styles, how to communicate and manage your time, which are useful when you enter work."
A key highlight was hearing from a former student who had gained a place at JP Morgan.
"His success story was amazing, it was so inspiring to think someone from my course had achieved so much. He broke down the steps of how he approached his applications and gave us really practical advice, tricks and tips, about how to ace assessment centres. It was so relatable and made me have more self-belief."
Though aware of the gender gap in tech, Maariyah does not feel she has been held back.
"You definitely notice there are more boys, it's hard not to when you go to an assessment centre and there are just one or two girls for about six guys. But the teachers at my school were very encouraging and at Ada everyone was focused on the same goals. There were more of us girls, and we all had each other's backs. I've been lucky, but I would say to any girl, if this is what you want to do, then go for it. It's a great career."