Starting a new job in lockdown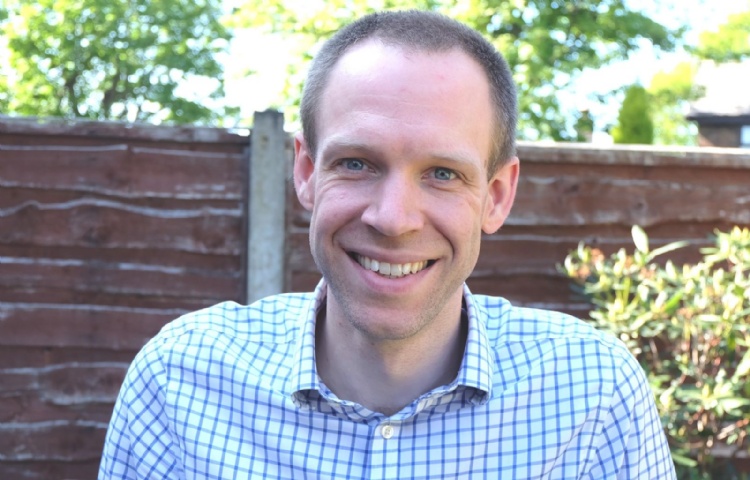 ​Many of us are experiencing key life events in a whole new way right now. Since Lockdown I've attended birthday celebrations, Easter Sunday Services, and a work leaving party. We've even welcomed a new nephew into the family. Others have navigated anniversaries, marriages and of course funerals. None of these are quite what we would have expected only a few weeks ago. Each occasion reminds us how different life on lockdown is. Some are painful and stressful, while others are perhaps amusing and endearing, and even surprise us with unexpected opportunities.
The life event I'm living through right now is starting a new job.
At the end of March I said goodbye to a much loved team at Ambition Institute, but there were no hugs and raised glasses. Instead we managed a moving and surprisingly effective leaving party using Zoom.
Fast forward a couple of weeks as I joined the team at Ada, The National College for Digital Skills, as their Regional Manager. On Tuesday I'm at home with the family, putting up a basketball net for the kids and doing some DIY. On Wednesday I'm at home with the family... but back at the desk in the bedroom and logging on as the newest member of the Ada team.
I'm left with the peculiar feeling that not much has changed but at the same time everything has changed. Without the physical changes of a new office or new commute my 'new job' experience is - like so much in the midst of COVID 19 - the same but different.
It's not what I would choose - I was looking forward to seeing the Ada sites in London, to meeting new colleagues face to face over a coffee, and to settling into a great new workspace in central Manchester. But it's not all bad. Here are a few things I have learnt so far.
The digital interface doesn't need to get in the way of a personal connection.
Can you really connect with people through a screen? I don't think I'm being too controversial to insist that you can. I've only been in the team a matter of days with no actual 'face to face' time but I know already that the team at Ada are warm, welcoming, informal, friendly, and committed. I have got to know individual passions, past times and a few quirks. We use Google Meet a lot. We see smiles, blurry eyes, laughter, head-in-hands moments and everything in between. And at no other time would I have seen the inside of so many colleagues houses a week into a job!
There is a lingering myth that a digital interface raises an obscuring veil between our interactions that stops us 'really' connecting, which I think we would do well to put to bed. I'm not suggesting a full equivalence between face to face and digitally mediated (I'll be the first to jump on a train and visit my new colleagues in loco when this is over), only that we aren't as short-changed as some might think.
Moreover, in most social contexts, established culture and norms have far more potential to act as a blocker to personal connection. If 'the way things are around here' is that colleagues never show weakness or share issues, or that people lack generosity with their time, that's going to be a problem even if you are all in a physical shared workspace. The positive culture at Ada matters much more than whether I am able to be in the same room as a colleague.
The agile and remote working revolution deserves a moment of appreciation and reflection.
I'm generally a fan of taking a second to pause and reflect. The lockdown has given some people the chance to freshly appreciate the value of a simple walk in the park or of digging in the garden. We have all taken time to consider and reflect on the extraordinary value of our health service and people who work in it.
I'm not suggesting we give cloud storage and integrated online collaboration tools a round of applause once a week, but we should take a moment to acknowledge how freaking impressive some of the technology is that facilitates so much of our remote working.
So join me for a moment to appreciate the coders, designers, architects, testers and visionaries who have created a world in which, for many of us, not being in the same room as our colleagues need not be one of the challenges we are facing right now. It is certainly helping me get off to a good start with Ada.
The vision of Ada is more important than ever.
It's clear that as a society we all need to pull together and each play our part in the recovery and rebuilding process in the wake of COVID 19. Addressing the digital skills gap and providing pathways back to employment is an important part of that.
But let's be ambitious in our rebuilding. When we emerge from the other side of this we may take the chance to think differently about our funding of health and social care, or about our investment in a green economy. Let's also be inspired to rebuild an economy that is stronger and fairer, and seeded with opportunities for those who have too often had their opportunities shut down or out of reach.
Ada is a specialist college committed and passionate about providing training and opportunities so that all our students can succeed in great careers in the tech sector.
The team I have just joined is working particularly hard to support women and individuals from tougher backgrounds to access world-class education in advanced digital skills. I'm realising that this has never been more important, and it's helping motivate me to start this new adventure from the confines of my bedroom.
---
DURING LOCKDOWN: If you're struggling with your mental health, all students at Ada have access to Kooth: a free, anonymous, online support system. Use your Ada email to register here.