SIXTH FORM RESULTS AND PROGRESSION 2019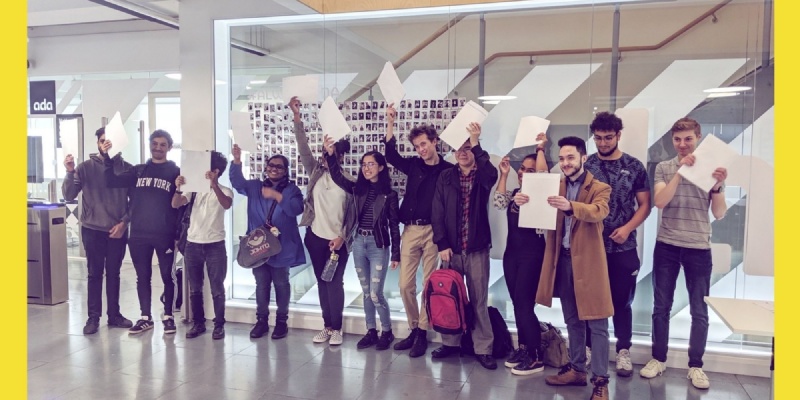 Today, Sixth Form students at Ada, The National College for Digital Skills have received their long-awaited A-Level results, marking the end of their two-year journey at Ada; their journey within the tech sector, however, is only just beginning.
Following on from our students' well-earned success, many of them will be beginning fantastic industry-led Degree Apprenticeship Programmes at Google, Salesforce, Deloitte and elsewhere, taking up places at top universities such as Queen Mary and Nottingham, or going straight into careers in the tech sector.
With a quarter of our Year 13 students receiving the top A*-A grade, 37% receiving A*-B, and an incredible 100% passing their rigorous computer science qualification these results are Ada's best to date. These exceptional results and Ada's unique industry-focused education, have empowered our students to move on to fantastic destinations with the skillsets, mindsets, and networks they need to flourish. For instance, over 20% of our sixth form students will join us back at Ada in the Autumn on our digital degree apprenticeship programmes with a range of leading employers and almost 15% of our students will be joining Russell Group universities.
Abby will be going on to a degree apprenticeship with Ada at Deloitte. "I never really wanted to go to university, but the apprenticeship allows you to get a good job and a degree, without the debt." She said, "Once I knew I wanted to go into computer science, Ada was the only place that seemed to offer what I needed. It all worked out perfectly." These fantastic results are indicative of Ada's supportive staff and engaging curriculum, assisted by a wealth of knowledge, insight, and hands-on learning from industry partners such as King, Bank of America Merrill Lynch, Deloitte and Salesforce. We are committed to working towards diversity and gender parity within the tech sector and we are fulfilling our mission of opening pathways into tech for those whose talents might have gone overlooked; we are tremendously excited to see our students now accessing fulfilling futures within the technology sector including over 90% of our female students who are going to their first choice destinations, whether that be digital apprenticeships or university placements.
We have many amazing success stories, with many students achieving top marks across the board. Lukasz received two Distinction grades and is excited to be taking up his place at Brunel University, studying Computer Science, "What's great about Ada is that you get to meet a lot of people from the industry; hearing from their perspective, how their career works, and how they got there," He said. "I always felt like there were so many different routes and opportunities open to me; apprenticeships at loads of cool places, as well as university."
Mark Smith, CEO of Ada, The National College for Digital Skills said, "Whatever route into tech our students decide to pursue, they should be proud of the hard work they've put in over the last two years to make it possible. We are especially proud to see the number of girls go on to accept Degree Apprenticeships and top-notch University offers. These examples highlight the vital work Ada is doing to diversify the tech industry and harness the talent of all our young people."
Lucinda Clements, Partner, Deloitte said, "Deloitte is delighted to partner with Ada in developing the next generation of technology talent. Ada has built a fantastic programme that combines a unique learning experience anchored around creative, entrepreneurial digital skills coupled with practical, relevant industry knowledge. Our apprentices are on an exciting journey that will help them accelerate their tech careers at Deloitte."
About Ada, the National College for Digital Skills
Ada, the National College for Digital Skills was announced by the Prime Minister in December 2014. It is England's first new Further Education College since 1993 and opened doors to students in September 2016, making the 2019 results Ada's second set of A-level and BTEC results. Ada offers a specialist sixth form where every student studies computer science as well as a higher and degree level digital apprenticeship programme in conjunction with some of the UK's biggest names in industry.
Ada's mission is to work with industry to design and deliver an education that empowers all its students, especially women and those from low-income backgrounds, to progress into highly skilled digital roles and lead flourishing lives. Ada is focused on using digital skills as a tool for social mobility.
For more information contact Amy Fowler, Director of External Relations, amy@ada.ac.uk