RESIDENTIAL TRIP TO CATERHAM SCHOOL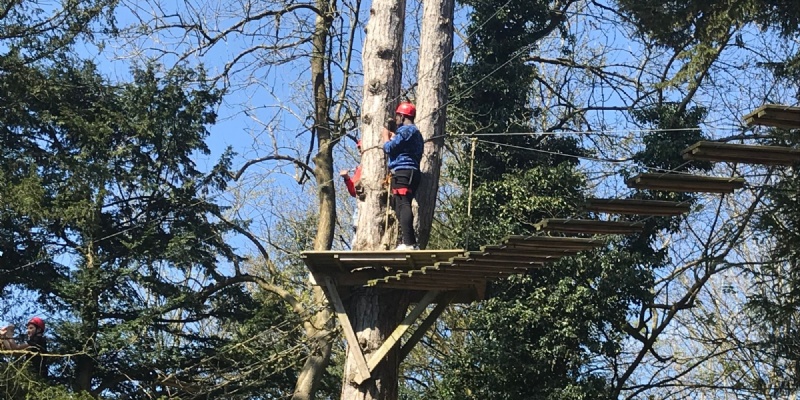 Last April our year 12 students made some lasting memories when we went on a 3-day trip to Caterham School, an independent school in Surrey. The 200-acre school campus has a tranquil setting with vast woodlands but also serves a good dose of adrenaline from sports fields, an outdoor learning centre, and even a high ropes course.
College trips are a perfect way to get to know your friends and teachers in a relaxed, informal space as well as providing time for quiet reflection.
The trip was busy but well planned.
The first afternoon had two workshops. The first one aimed to help students connect with their personal ambitions and strategies to overcome any barriers to learning. The second workshop focussed on stress management and provided a series of recovery tools, like breathing techniques, to handle stress. At the end, we had a small activity called "Future Self", where the students had to articulate a vision of their wiser future selves. The evening was quite relaxed with board games and a few outdoor sports as well.
The second day began with a morning ritual of yoga, organised by yours truly! Immediately after the yoga session, things picked up pace with a series of outdoor activities designed to focus on key learning objectives like building independence, working together, and learning new life skills. A mix of high and low ropes, the group had quite a blast during this session. We had barely recovered from the adrenaline rush, when we set out for a walk in the woods. We then used this quiet setting for a session on revision techniques, given the students' upcoming exams.
And the fun didn't stop when the sun went down! Our evening activity programme included indoor board games as well as football and tennis sessions in the sports centre. The third day focused on academics with a workshop on the best approaches to planning a revision timetable for exams. In all, we had a great mix of fun, introspection and academic preparation during these three days.
At Ada, we consider collaboration and teamwork to be a core value and extracurricular activities provide a good setting to imbue this into our students. We also encourage students to set both team and individual goals, challenging themselves through perseverance rather than competitiveness, and supporting each other to overcome personal challenges.
These three days in this unique setting gave our young digital pioneers a great platform for team bonding and an unforgettable growth experience.