ADA'S FIRST OPEN EVENING OF THE YEAR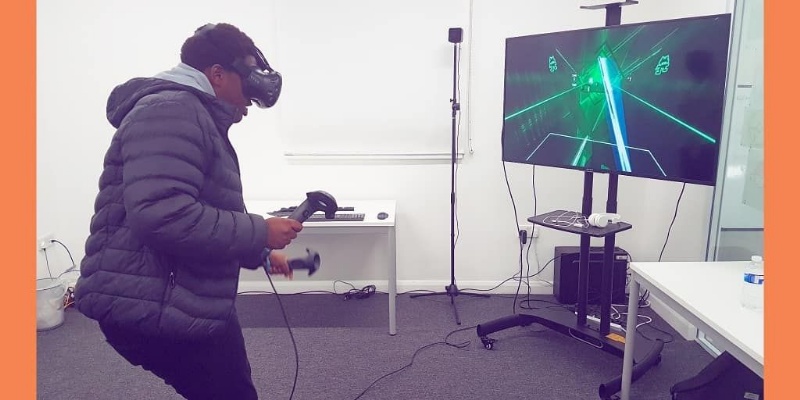 Ada recently hosted its first Sixth Form Open Evening of the year. We gave over 40 students (plus their parents) their first taste of life at the college through a variety of activities, events and talks.
Attendees kicked off their evening with a tour of the Broad Lane campus, led by our fantastic student volunteers. The tours covered our wide range of facilities, including the Open Space (where we host industry speakers and hold computer science workshops), our new library (filled with a range of fiction and non-fiction titles) and our classrooms (such as the dedicated Mac suite for our Creators).
Then, our visitors took part in a student-run virtual reality experience. They donned a cutting-edge, HTC Vive headset and played a series of VR carnival games testing their accuracy, perception and reaction times. This demonstrated the capabilities of our VR system which our students will build their games for in the future.
Attendees also dropped by our classrooms to meet teachers and student representatives for each of our subjects. Here, they learned more about our curriculum and the industry involvement that underpins it. Not only this, but the classrooms also highlighted project work that our students have completed this term. This ranged from digital art pieces (Graphics) to a Microbit-controlled version of Pong (Computer Science). This gave our visitors a flavour of the hands-on, project-based learning that is integral to the Ada learning experience.
We wrapped up the evening with a series of talks from staff, students and industry representatives. Stuart, our Principal, outlined our curriculum offering and the exciting career pathways it opens up. Our Vice Principals, Vicky, Tina and Chris, focused on our college values: curiosity, resilience, rigour, collaboration and creativity. Representatives from the Ada Student Voice group also spoke, offering our visitors personal accounts of the experience of studying at Ada. Finally, Ryan and Ross, two of our former students came along to describe their alumni experience. Now completing a higher-level digital apprenticeship at Google, Ryan and Ross highlighted the amazing career prospects possible after studying at Ada.
All of these different strands came together to make the Open Evening a huge success. We received some excellent feedback from visitors about our staff, students and community spirit. If you missed the Open Evening but want to find out more about Ada, fear not! You can book a visit to meet us here.