My first Ada All Staff Day!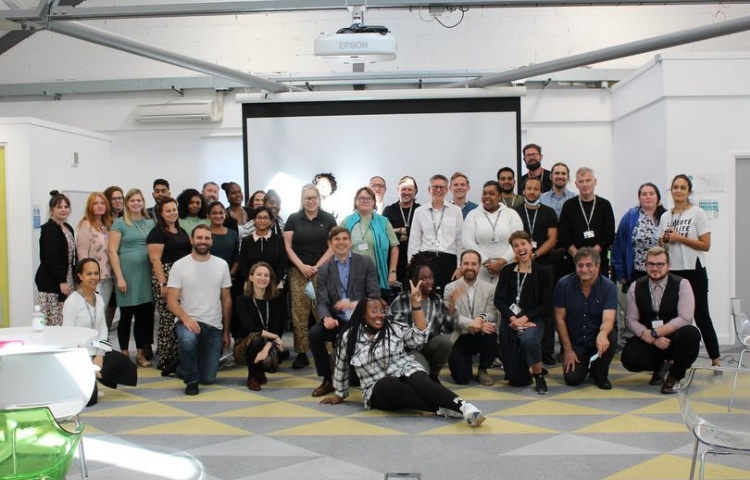 I joined Ada a few weeks ago, as their first Director of People, and just in time to participate in two fantastic All Staff events. The timing couldn't have been better!
It was a great opportunity to meet many of my new colleagues in the flesh for the first time, and also to introduce myself to others for the very first time. Everyone was so welcoming and friendly – that really counts for something when you're new to an organisation. Aside from that, I could see that established colleagues were so happy to see each other after such a long period of time working remotely for many.
The atmosphere at these events was buzzing – just how I had imagined it to be really, based on everything that I had read about Ada when I was applying for my role. I was impressed at how everyone got into the spirit of them.
There was a good mixture of fun and formal stuff. I enjoyed all of it. The ice-breakers enabled me to talk to lots of colleagues within a short space of time; I particularly enjoyed the opportunity to walk and talk in small (rotated) groups for around 15 minutes each time, around our local park - it was great and very different to the normal intro ice-breaker stuff. Everyone said how much they enjoyed that – I'm hoping, weather permitting, that we get the chance to do that again.
The other ice-breaker I enjoyed was the Improv session. This 60-minute, externally facilitated session was brilliant; amongst other things, we were challenged to think more creatively about generating new ideas, understand others' points of view and how those can be perceived as facilitating progress or blocking progress.
The more formal aspects of these two events were really informative. I got to hear more about Ada's new up-coming 3-year strategy. After that, we sat with our own teams for around 75 minutes and had a productive conversation about the types of 'Pebbles' each team would envisage delivering over the life of the new strategy, in order to achieve the 'Rocks', and larger 'Boulders'. That's one of the things I like about Ada, we are creative in our thinking – I'm pretty sure most organisations would use the traditional nomenclature, i.e. strategic objectives, sub-objectives and targets.
After that, each team shared their views with the whole staff group – that was so funny! We could present in whatever way we chose as long as it was presented in a fun way. Everyone got into the spirit of it – some of the presentations were so creative, no one took themselves too seriously – it was great!
Aside from the strategy stuff, I enjoyed the neuro-diversity session. That was facilitated by an external consultant; she really gave us food for thought around how I can embed this into the development and delivery of our People services at Ada. It's timely, because we have a brand new Diversity Policy and we are going to be starting work on embedding that across all of our work at Ada.
Now, let's not forget to mention the lunches! The food was tasty, healthy (in part) and plentiful. Lastly, I gather from a couple of colleagues that these two All Staff events have been the best ones so far. I'm very much looking forward to the next one!