Expert Women in Tech share their inspiring journeys with the next generation of digital pioneers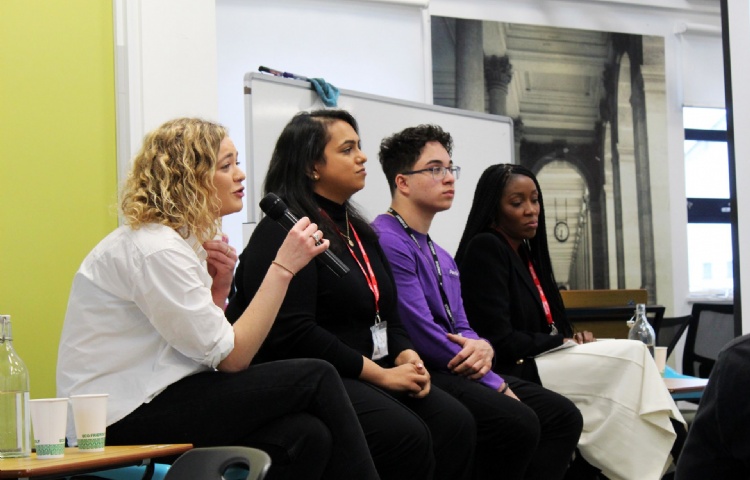 International Women's Day is a global holiday celebrated annually as a focal point in the women's rights movement, bringing attention to issues such as gender equality, reproductive rights, and violence and abuse against women.
With this year's theme of Embrace Equity, we hosted a Fireside Chat on Wednesday 8th March at our Sixth Form campus. This event consisted of four panellists: Chloe Tye, Investment Manager at Impetus, Ijeoma Ogbechie, Director, COO & Portfolio Delivery, Global Markets Technology at Bank of America and Mehnaz Khan, Corporate Counsel at Salesforce as well as our Year 13 student representative Caua Silva Pereira and was chaired by our Student Voice President Gulten Kurban. The panellists shared their expert experience in the world of tech with our Year 13 students as well as their thoughts on the topic and advice for our future digital pioneers.
Gulten started off the event with a summary of the importance of International Women's Day and an explanation of the difference between equality and equity. She then went on to ask the panel various questions related to the topic.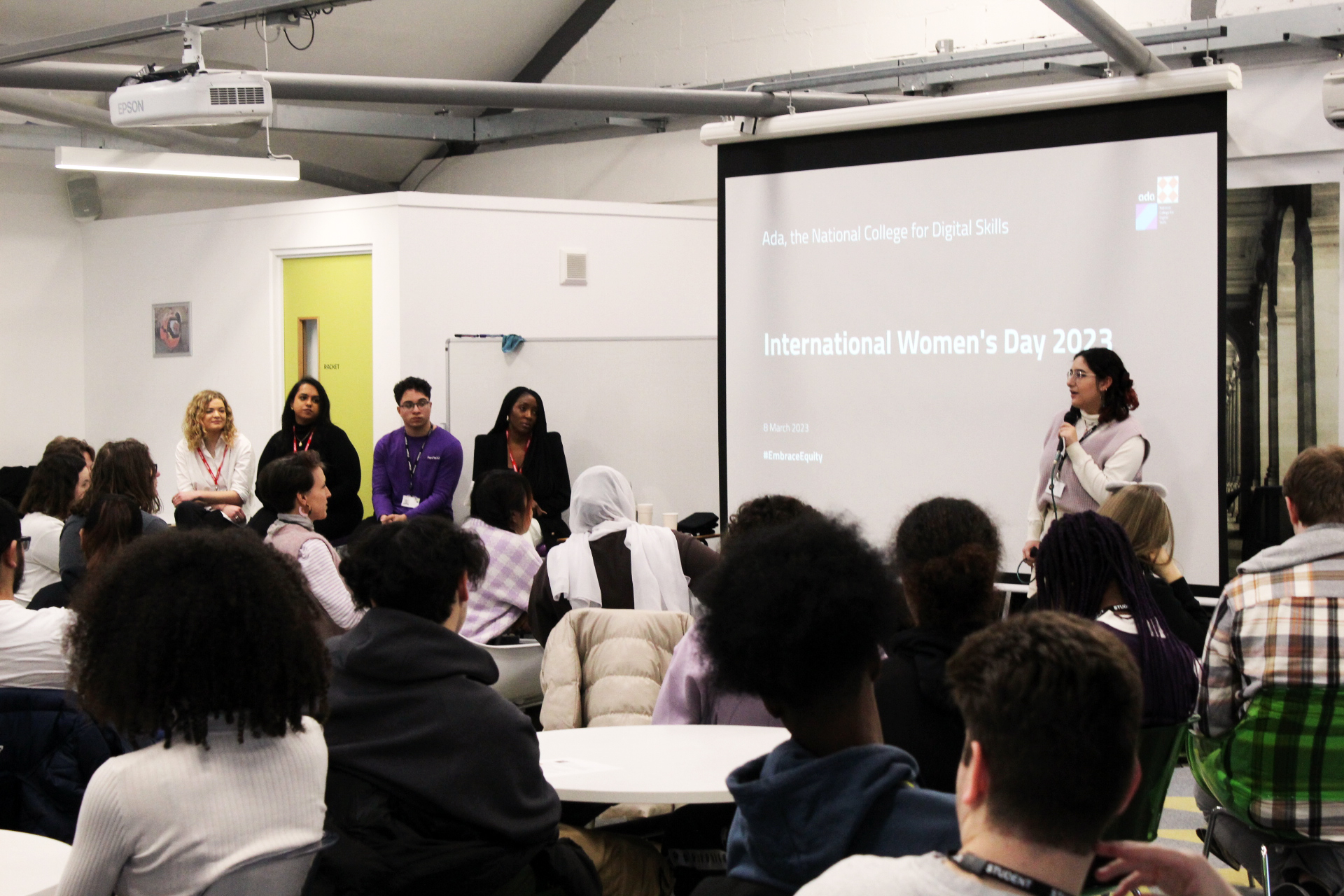 What do you think are the challenges with Embracing Equity? What do you think are the opportunities?
The words Equity and Equality are interchangeable. Mehnaz used the following analogy to help describe the difference; a team needs shoes, the Manager could give them all shoes (equality) but it is better to give them each shoes that fit (equity).
In reference to the importance of Embracing Equity, Ijeoma said, "Equity needs to be at the forefront of what we do." When she joined the workforce she "didn't realise what real equity was as it wasn't discussed or in the social consciousness". She wished she had started her career at Bank of America as he thinks her trajectory would have been different.
Our student body representative, Caua agreed that talking about Equity and Equality is the first step. He said, "The first thing we should do is talk about it (the issue of inequality and what equity and equality are)."
Do you think you would have taken a different path if Equity was embedded in everything we do, when you left school?
When discussing the panellists' route into tech Mehnaz mentioned that her journey "growing up poor we had no money to pay for ", she was 'lucky,' her employer, Salesforce, sponsored her and paid for her qualification, she committed to a three-year contract, 'that was equity'. When she started out she had no idea what she was doing. Leaders didn't understand what her needs were because they were not the same as other colleagues. When she had to advocate for herself it made her feel different and that knocked her confidence to begin with. If she was offered an extra helping hand it made her feel that she wasn't meant to be where she was.
What one piece of advice would you pass on to us as we start the next part of our journey in life?
It's ok to change your mind. No decision is permanent if you don't want it to be. Explore you and what you want. "Looking after yourself is how you can truly impact the world", said Chloe in response to this question.
Mehnaz added, "Be curious and ask questions." Do not be afraid to be yourself and ask questions. Learn to fail and find joy in doing hard things. "If someone's not saying much you might want to open the door to them". She has found that she doesn't always get the same feedback as colleagues from different backgrounds, people don't want to offend her because she is different. She wants the same feedback, the same treatment.
Ijeoma advised students to find a mentor and try to build relationships. Companies are looking for core capabilities which are to do with you as an individual. They are looking to see if you are a team player, can you solve problems, are you resilient. The expectation is that you can be a sponge and soak up the knowledge and training they will offer. They want to know that you will work hard and apply yourself. In six months you'll understand how you can play your part in that environment. They want to know what kind of attitude you can bring? Why would an employer want to hire you?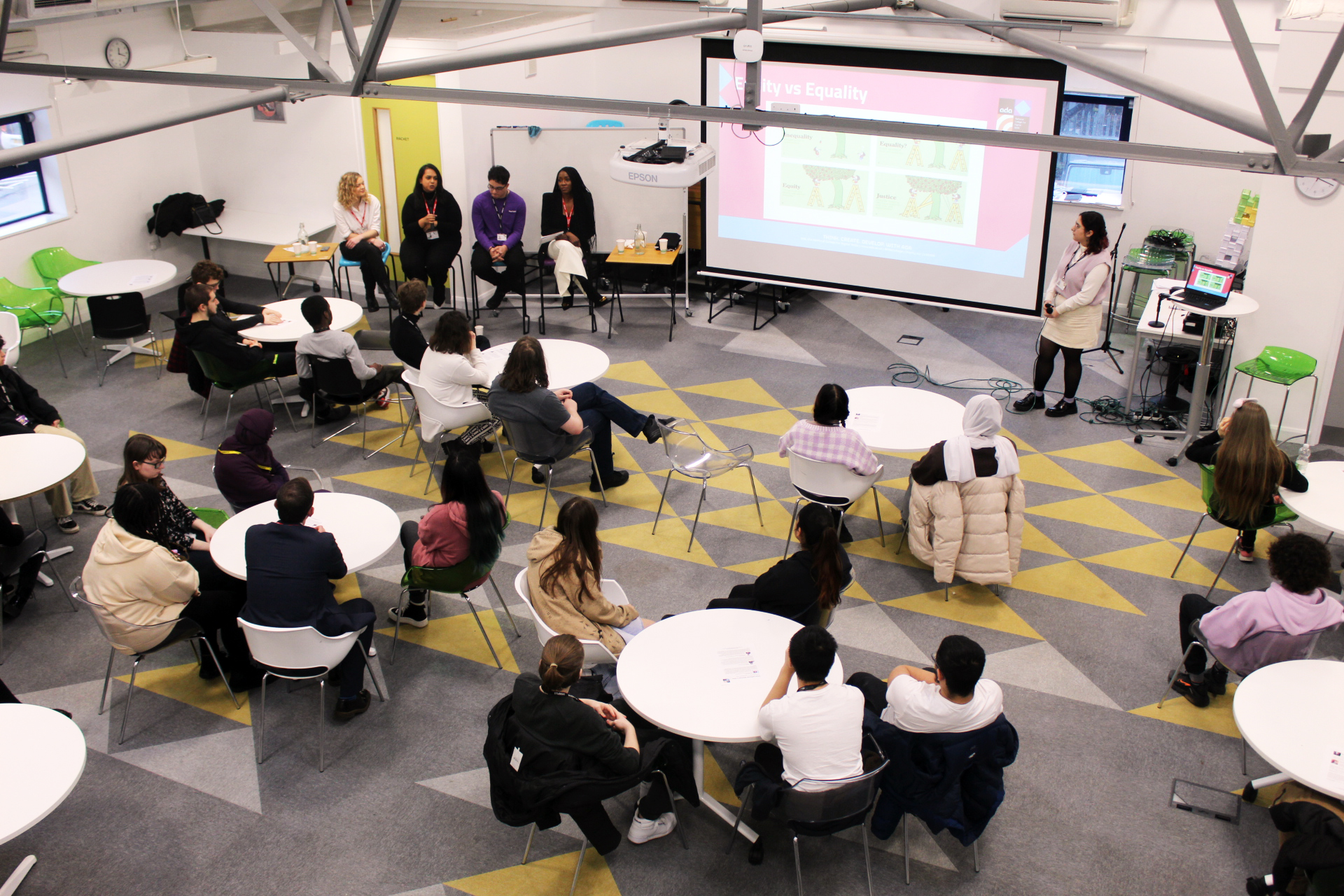 The questions then opened up to the students in the audience and could you tell from them, how valuable this event and the experts' advice had been. On the topic of the growing gender pay gap and how the students can be aware of what they should be asking for, Mehnaz said, "Ask for a payrise, ask for what you are worth". Ijeoma added, "When I started my tech career I just took what they gave me" she advised students to explore the question; How do I know if I'm getting what I'm worth? Spend some time trying to find out, arm yourself with data, websites which offer median salaries for role types. Companies on the front foot with this are the ones attracting the talent.
We were fortunate to host these incredible women in tech and the students relished their knowledge, stories and advice.
At Ada, we want to remove the glass ceiling for women and individuals from low-income backgrounds in the tech industry through our mission to educate and empower the next generation of diverse digital talent. Everyone, from any background, is entitled to a quality education and a better future. Events such as these and volunteers such as our expert panellists aid us in making this happen and we would like to thank them all for their time and support with Ada.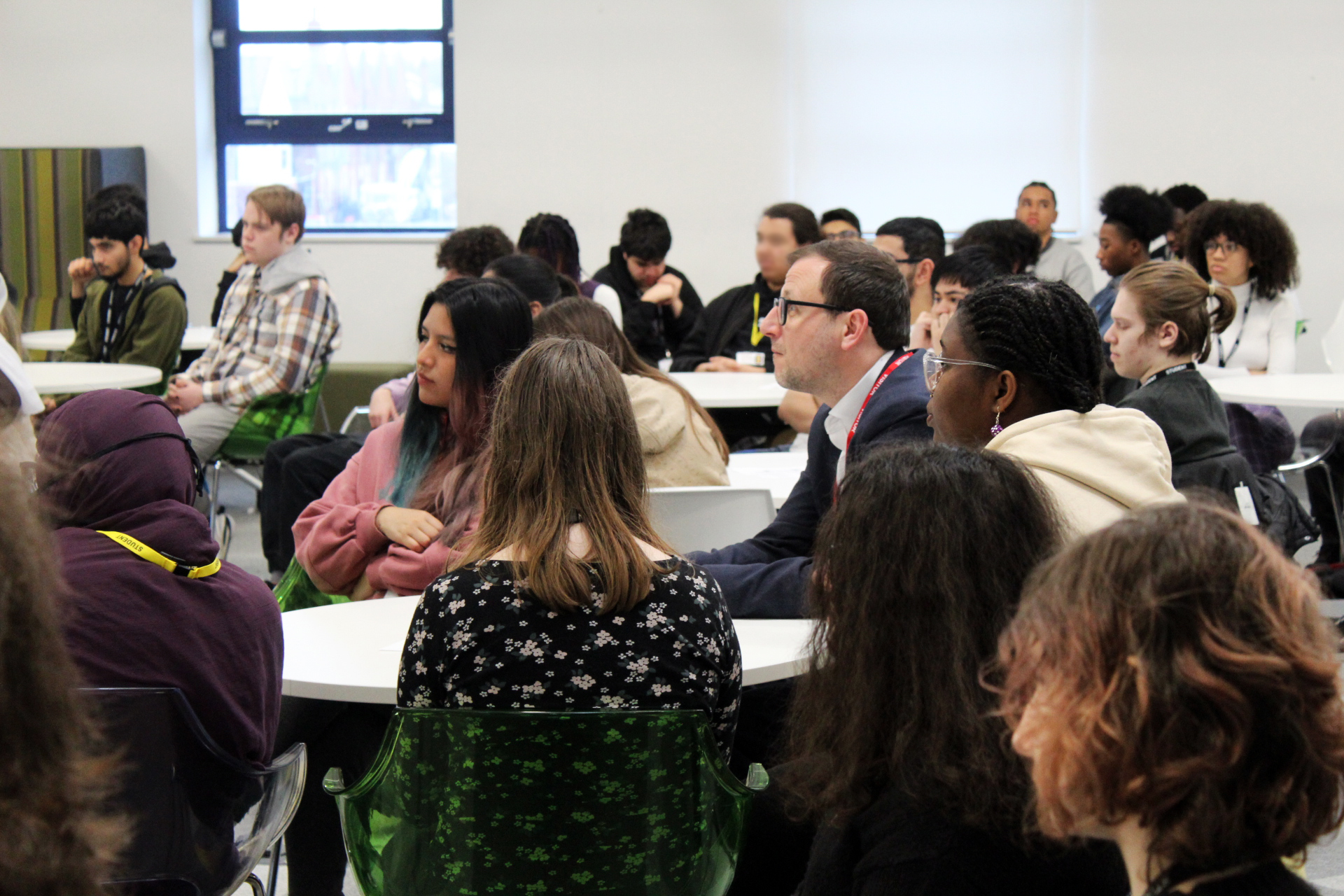 ---
Chloe Tye started working for Impetus in January this year, a charity focused on grant funding and supporting charities that support young people into education and employment. She has had a significant impact in the charity sector, having worked in impact and fundraising for a sustainability focused start-up called Notpla and started her career at Big Issue Invest through a charity graduate programme, Charityworks, spending four years working in their social investment team as an Impact and Equalities Specialist. She led on impact management and measurement for their investment funds, created the impact framework for a new equity-focused fund, and built the Big Issue's internal diversity, equity and inclusion strategy and action plan. Through this role she also sat on a sector-wide steering committee for the Diversity Forum to help promote inclusion across the social investment sector.
Ijeoma Ogbechie is a Director, COO/Portfolio Delivery in Global Markets Technology covering Counterparty Portfolio Management and Global Markets Analytics at Bank of America. In this role, Ijeoma leads the delivery of the firm's top risk, regulatory and enablement programs, organisational and strategic management for the group. She joined the bank from OpenLink Financial in 2015, where she was a Director of Sales and Account Management and managed a multi-million-dollar client portfolio across North America, LATAM and Europe. She led and managed a global team of professional services staff and account managers. In addition to driving technology, Ijeoma is passionate about and heavily involved as a leader in the firm's diversity and inclusion initiatives. Over the years, she participated in various diversity committees and co-led the Communications stream of the GBAMT Diversity & Inclusion Council. She is currently a member of the Global Markets Technology Diversity and Inclusion committee, leading the Network Affiliation stream. Ijeoma is also a member of the Women in Technology network, Leadership Education Advocacy & Development (LEAD) for Women network and Inter-Generational (IGEN) network.
Mehnaz Khan is a commercial lawyer at American cloud-based software company Salesforce. She joined the company eight years ago as a Legal Assistant and has since risen through the ranks to qualify as a lawyer. She now focuses on supporting transactions with customers in the Technology, Media, Telecommunications and Sports space, and has worked on a number of high profile deals with key strategic customers. Mehnaz is passionate about using her platform to advocate for equality and equity, and promote social mobility. In her spare time she enjoys weightlifting, travelling and acting.