Ada wins a grant from Salesforce
Ada, the National College for Digital Skills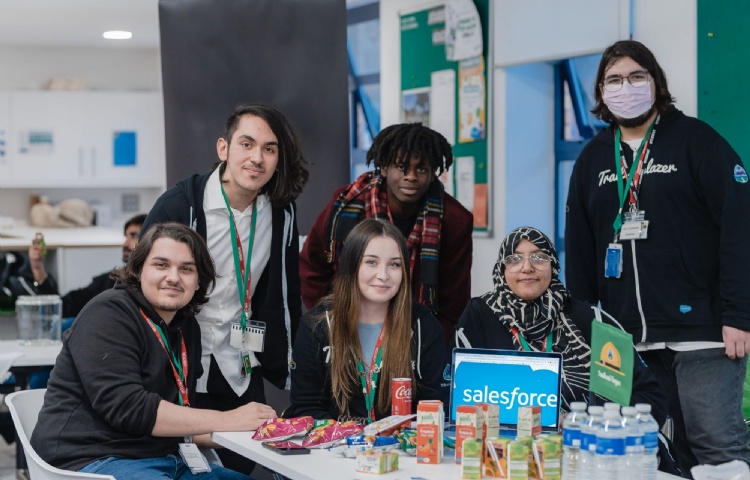 Ada, the National College for Digital Skills wins a grant from the Salesforce for their work to increase diversity on Digital Degree Apprenticeships
Ada, the National College for Digital Skills is delighted to have won a grant from Salesforce to deliver a two year project aiming to attract and support young adults from underserved backgrounds in London and Manchester to access, and thrive in high quality entry-level Digital Apprenticeships.
With the funding from Salesforce, Ada will create and deliver an innovative programme of pre-apprenticeship courses designed to address specific gaps that hold disadvantaged young people back from competing with their more advantaged peers for life transforming Degree Apprenticeships at top firms. The programme will also look to tackle the bias in recruitment processes and influence more equitable recruitment and hiring practices from employers.
Set up in 2016 to address a talent shortage and lack of diversity in the digital industries, Ada offers a high performing sixth form college and trains degree-level technical apprentices. Ada works directly with employers, big and small, to help learners develop marketable skills and industry nous.
We are delighted to be working with Salesforce on this project! Getting more diverse people into the UKs digital sector isn't going to be a quick fix, we meet many talented and eager young people from the most disadvantaged backgrounds who need a range of tailored solutions made available to them, so they can get a foot onto the career ladder. These courses will make the field more equitable for young people at a disadvantage, and we can't wait to get started! Our pre-apprenticeship courses will be the bridge between Ada's Outreach and our transformative education programmes allowing us to find young talent and get them into jobs in the UKs thriving digital sector.

Director of External Relations of Ada, the National College for Digital Skills, Olwen Sisupalan
We are delighted to have secured this grant from the Salesforce Foundation. Since we opened in 2016 we have found that many young people are unable to access a Digital Apprenticeship simply because they lack a particular technical skill or the know-how to navigate a company's selection processes. Companies are desperate for reliable technical talent, and we know there are so many young people who want to access entry-level opportunities in the tech sector, so we're excited to work with both companies and young people to create a more diverse, sustainable pipeline of young technical talent across The North West and South East of England.

Co-founder and Chief Executive of Ada, the National College for Digital Skills, Mark Smith
We are excited for our ongoing partnership with Ada to expand their support to young adults in London and Manchester to access and thrive in high quality tech entry jobs. Contributing to a diverse and inclusive workforce.

Ron Smith: Vice President of Philanthropy at Salesforce