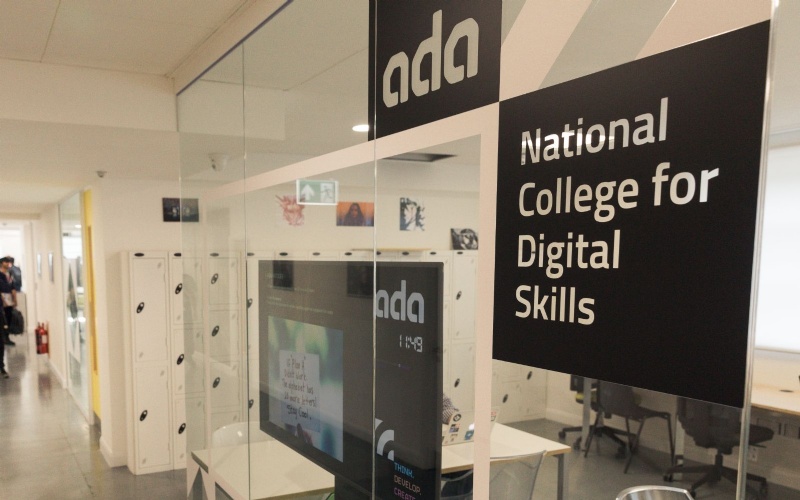 Ada's Response to COVID-19
15th April 2020
All Ada's learning will take place online until further notice.
Ada's Leadership Team is continually reviewing the government announcement on school closures and exam cancellation, but Ada will continue to deliver lessons online for students and apprentices.
Ada wish to thank all students, their families, and Ada staff for embracing our move to a remote model for teaching, learning and assessment.
Exam cancellations:
We are aware of the government announcement regarding exam cancellations. Although it is not yet clear how grades will be awarded this summer, it is likely to be a mixture of coursework, teacher assessments and predicted grades. The government have made it clear that students' progress will not be hindered by exam cancellations. We will update you when we have any further information.
Ada will continue to offer online learning and support students in their progression.
---
Full Coronavirus Update:
To prevent the spread of the coronavirus (COVID-19) outbreak, and to protect our students and staff, Ada has made the decision to move learning fully online from 17 March until further notice. We have temporarily closed our Sixth Form Campus in Broad Lane, Tottenham and our Apprenticeship Campus in Vallance Road, Whitechapel. The welfare of our students and staff is our highest priority and, in closing our campuses, Ada is helping to prevent the spread of the virus. We acknowledge the role that educational establishments play in moments such as this, and have come to the decision to close our buildings as a method of protecting the wider community.
Although our physical buildings will be closed, it is our aim to operate as normally as possible. Our teachers and lecturers will be uploading digital learning resources for our students to learn independently at home and will be on hand to offer remote help and extra teaching materials, just as they would during a normal day in the classroom or lecture hall. Given our status as the National College for Digital Skills, Ada is well-placed to deliver an online learning delivery. Please see below for guidance on remote learning for sixth form and apprenticeships.
Ada supports the government's measures to reduce the spread of the virus, whilst also ensuring all our students remain fully supported during such unprecedented times. Although our physical sites remain temporarily closed the college has been making provision to support any learners who require it in the following ways:
Support for those who experience technical difficulties. We have in the last week sent out physical equipment needed and our tech support team remain active to provide support remotely.
Support for student well being. Currently our support teams are checking on the mental health and well being of every learner. Please also, as parents/guardians/carers do not hesitate to get in touch with us if you have any concerns or questions.
Support for student finances. The Ada Finance team are contacting each student in receipt of bursaries or monthly payments to discuss ongoing support and ways of ensuring those who need support receive it.
Remote Learning Guidelines for Sixth Form Students
Ada staff and students are working hard to maintain teaching and learning on a daily basis. Google Classrooms is being used as the main online location for guided structured learning sessions and we are continuing to use the timetable as the structure to our day. Work is being routinely set, video's pre-recorded and resources uploaded to ensure all students can work at their own pace through the learning. Deadlines remain for assessed work and we are using short time frame milestone deadlines for completing work set to aid learners in maintaining regular learning patterns. Each class has calendared google hangouts, to ensure virtual face to face contact and bring staff and learners together
Remote Learning Guidelines for Apprentices
Ada's lecturers will continue to upload digital learning resources within The Google Classroom and will continue to deliver live lectures and workshops remotely. Students are expected to be online and accessing the online learning material during the core learning hours, just like a regular day at Ada. Lecturers will also be available during this time to offer support and answer any questions.
We understand that the decisions we have taken could pose challenges for our students and their families and we are here to support in any way that we can. Staff will be following their usual lesson timetable whilst making themselves available between the hours of 09.00 - 17.00 to answer emails and calls from students and parents. Please bear with us if we cannot respond to you immediately.
Ada's buildings will remain closed until further notice and we will advise you when the sites are due to reopen. Ada will be continuously monitoring the ongoing situation as information is received from the UK government and the Department for Education (DfE), and will contact staff, students, and parents of any changes. We will also update our website and social media with any new information. In the meantime, we strongly advise that students, staff, and their families, follow advice from Public Health England to ensure that they stay safe during this time.
Everyone at Ada is working their hardest to ensure learning continues. We want to thank you all for your continuous support, understanding, and patience.
For further guidance and advice, please see the below articles:
---
If you're struggling with your mental health, all students at Ada have access to Kooth: a free, anonymous, online support system. Use your Ada email to register here.