BRITISH EXPLORING SOCIETY SUMMER EXPEDITION TO THE YUKON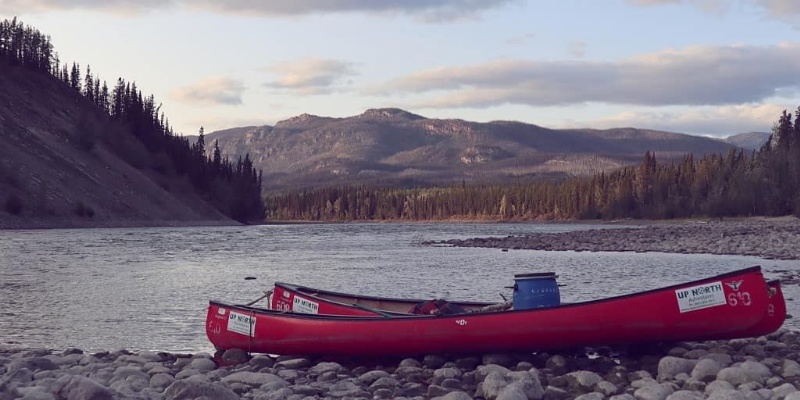 Summer 2019 saw two of our recently graduated Sixth Form students pack their bags and head to The Yukon in Northwest Canada, for five weeks of climbing, canoeing, and taking in the breathtaking views. Here, James details his trip of a lifetime...
During the summer of 2019, I embarked on an adventure with the British Exploring Society (BES) to the Canadian Yukon for five weeks. I spent my time trekking the Davidson Range and paddling the Teslin and Yukon rivers. Back in 2018, I was introduced to the British Exploring Society by Ada, The National College for Digital Skills. After having looking on their website, I was immediately intrigued and signed up to take part on an expedition. A few days later, the phone rang.
It was BES.
I had a short phone interview for the expedition, causing me to become even more excited about the prospect of going to the middle of nowhere. Following the phone call, I was told that I had a place on the expedition. Yay! I accepted the place straight away even though the thought of having no Wi-Fi for five weeks was slightly unnerving.
Induction weekend
Before the expedition started, we had an induction weekend at a Scout Camp near Oxford. To prepare us for the worst that the expedition might throw at us, BES had meticulously chosen the wettest and windiest weekend of the year for us. Throughout the induction, I learnt some helpful information: how to pack an expedition backpack, how to use bear spray and the fact that my £15 tent from Go Outdoors wasn't waterproof... It was also quite shocking to find my tent in a tree after we went on a mini hike! Thankfully, I wasn't using this tent for the actual expedition. Despite this, the weekend was really fun and I had the opportunity to meet my fire - what BES call the expedition teams.
Travelling to The Yukon
Several months after the induction weekend, the time had come to leave civilization for five weeks. I arrived at Heathrow airport around 9 o'clock and reunited with the rest of my fire. Considering we had four hours before our flight departed, Heathrow thought it would be a good idea to check 60 explorers in with their kit and rush them through security half an hour before the flight departed.
Nine hours later and after all the stress, we arrived in Vancouver only to catch a connecting flight to the Yukon's capital city, Whitehorse. After a long days worth of travelling, we arrived safely and about 60% of us actually had our bags. Thanks Heathrow. We drove to the Whitehorse Curling Club which became our humble abode for two nights before we headed out to McQuesten Lake, the area in which our base camp was to be set up. Unfortunately due to wildfires near McQuesten, we had to stay in Whitehorse for an extra day whilst we waited for a firebreak to be put in place. We decided to hike around the nearby area and travelled to Miles Canyon (about 12km south of Whitehorse) and visited the SS Klondike National Historic Site. This gave us a chance to see a recreation of the sternwheeler that ran aground in 1936 on Hootalinqua Island (situated in the Yukon River).
After three anxious days we finally arrived at base camp in McQuesten - 100km away from the Arctic Circle! Along with the other fires, we were given a tour (MTV cribs style) of camp and were shown where to sleep, where to cook and proper wilderness toilet etiquette; I'm not joking, this is actually a thing. The next day, we had a few duties to complete around camp such as lopping trees, creating another latrine and planning out our routes for the hike. We finally settled on three places that we wanted to hike to: Ladue Lake, Mount Cameron and Hanson Lake. Before we started on our main hike, we needed to go on a reconnoitre up Ramblers Hill to search for water springs with little to no heavy metal traces. After this, we were ready to start the main hike.
Ladue Lake
Our first stop on our hike was Ladue Lake. This wasn't too far from base camp (around 15km) and the terrain wasn't too difficult. However, it did get quite boggy at times and it was raining for the first part of the day. Fun. This hike was a great introduction to hiking through the wilderness and camping in bear country! We pitched our tents along a bear trail up a hill a few metres away from the water (to avoid mosquitos).
Ramblers Hill / Mount Cameron / Forbes Hill
After we got back from Ladue Lake, we spent one evening at base camp before we headed out to summit Mount Cameron. Initially, we were rather ambitious and wanted to summit in four days. We had planned to hike to the top of Ramblers Hill (around 10km of constant ascent) on the first day where there was a water source. To fill and transport jerry cans of water closer to a ridge connecting Ramblers Hill and Mount Cameron on day two. To summit and descend Mount Cameron on the third day, and finally head back to base camp on the last.
On the first day, we were able to get to the water source at the top of Ramblers Hill and transport the water closer to the ridge connected to Mount Cameron. After a long day, we set up camp close to the ridge and fell asleep fairly quickly. Since we had an extra day to play with, we decided to scout a potential route along the ridge the following morning, without heavy rucksacks! Reaching the top of the ridge, we realised that the summit might not be possible since we would need to descend into the neighbouring valley system. We headed back to our camp and tried to come up with a plan.
The next morning, we decided to attempt the summit, but from a different direction. We packed up our tents and kit, collected an emergency food drop we requested, and headed for Mount Cameron. Five hours later, we hit the same problem as the previous day but with heavy rucksacks, we were soon realising that the summit just might not be possible. We made a few more attempts before we realised we didn't have the right equipment to descend into the connecting valley system. Slightly disappointed, we set out a new goal: Forbes Hill. We set up camp below a peak on Ramblers Hill and called it a night.
The next morning, we woke up in thick fog and could barely see 5 metres ahead of us! In the pouring rain, we descended down the rocky ridge and made it to the bottom of the valley system that we were already in. Absolutely soaking despite wearing waterproof clothing, we set up camp and played a great game of Mafia around the fire whilst we waited for our clothes to dry. We then spent the night planning our route up Forbes Hill and back down to base camp.
The next day, we packed up our tents and headed for the summit at Forbes Hill. About an hour into our ascent, we needed to climb up the hill on all fours due to the steep gradient of the hill! We got to a small plateau and had a small bite to eat before we continued to the summit. A few hours later, we reached the summit! The view was incredible and the sense of achievement was amazing; our fire reached the summit first! We set up camp close to the summit, but further down so that we were shielded from the wind. This by far was the coldest night we had in the mountains; the wind chill was absolutely insane!
On the last day, we were going to try and camp out by lake McQuesten (15 minutes from base camp) but decided to head back to base camp because we were running out of food and energy. Instead of taking a route in which previous hikers used/ made, we decided to create our own. After 10 hours of battling with trees and vegetation, we finally made it out of the forest section towards the bottom of the mountain. When we got back, we had a warm welcome from the expedition leaders that were in charge of base camp. They made us a tasty dinner and our team decided to rest at base camp for two days to recover from the big hike! One of these days were spent baking and the other was spent in canoes on the nearby McQuesten Lake to practice for the canoeing element of the expedition. We also had the chance to see the Northern Lights on one of the evenings, which was awesome!
Hanson Lake
After we rested, we went for a short day hike to a nearby lake. Since this was just a day trip, we left our tents at base camp and just took our waterproofs, swimming kit, a pack of cards, books and food. For most of the day, we sat slumped on the grass and read our books in the sun - a very relaxing way to end the hiking section. Around mid-afternoon, we headed back to base camp and joined the rest of the fires that got back from their hikes.
The next few days, we spent our time packing up base camp, collapsing all of the tents and ensuring that we left no trace of human activity. After all this was done, it was time to head back home... well, back to the curling club. After a short (!) six hour drive, we finally arrived. Instead of getting ready to go home like the other fires, we needed to collect and organise our canoeing kit since we were staying out in the Yukon for an additional two weeks. The next morning, we said goodbye to the other fires and left for Johnsons Crossing - a place in the Yukon territory close to where the Teslin river starts. We put our canoes on the water, loaded them with our food and kit, and set sail for a 400km journey along the Teslin and Yukon rivers!
Whilst we were on the river, we spotted lots of wildlife, including: a black bear, a moose and a lynx. We got the chance to see the northern lights (again) and practised our bannock bread baking skills every evening. The canoeing element of the trip was completely different to the hike. It was a nice change of pace and didn't require too much physical activity; besides when there was a constant head wind pushing us backwards! Overall, the canoeing experience was amazing and definitely worth doing.
After a long five weeks, we finally made it back to civilisation for good, in one piece. We went out for a team meal to a local restaurant and tried Bison steak, bought a few souvenirs and spent our last night in the sauna which was in the curling club. The next morning, we set off for the airport and headed home. Seeing my family for the first time in five weeks was awesome, but saying goodbye to my Yukon family was not that awesome 😔.
The expedition is by far the best thing I have ever done in my life and I am looking forward to getting back out to the wilderness soon!