Abby's Story
Ada Apprentice and Ada Sixth Form Graduate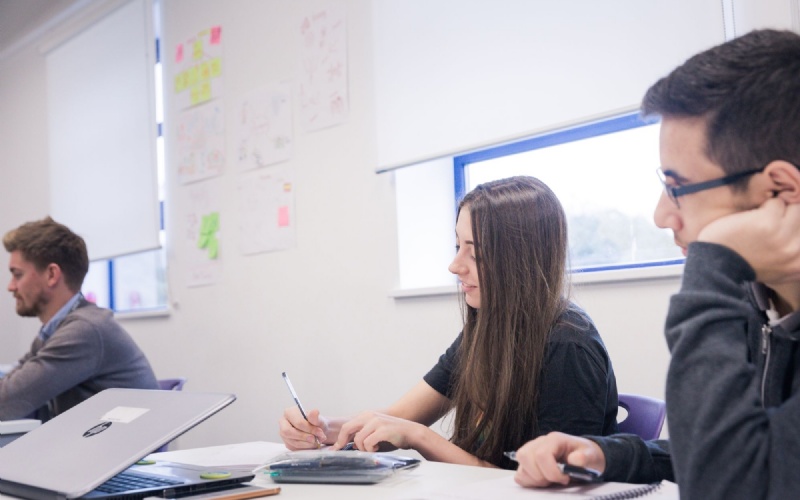 "I'm getting a degree, for free, getting paid while I do it, getting on-the-job experience, and getting contacts in the area that I'm going to be working in. I feel like I've got a head start."
---
Abby graduated from Ada the National College for Digital Skills' Sixth Form in Summer 2019. After studying Computer Science and Business with us, she's now on Ada's Degree Apprenticeship Programme with our industry partner, Deloitte.
From the age of 13, Abby knew that she wanted a career in the digital sector, but the education offering in her area wasn't what she needed to succeed. As soon as Abby attended our Sixth Form open evening, she knew she'd found the college for her: "I thought, 'that's it, I'm going here no matter what'. I had my heart set on it." For Abby, it was Ada's links with industry and our Degree Apprenticeship Programme that made her sure Ada was the right fit, "Because I knew I wanted to do an Apprenticeship, the push on industry was probably the main thing that attracted me to Ada," She explains, "The fact that Ada worked with all these massive companies and did projects with them that gave you the skills to do real-life projects, was one of the main reasons I chose to go."
Despite not having a GCSE in Computer Science, Abby thrived at Ada. She learned how to code, networked with our industry partners, and took advantage of all the projects on offer. Abby excelled within Ada's unique, industry-led teaching model, achieving excellent grades and going on to become one of Deloitte's Bright Starts through an Ada-taught Degree.
Abby's desire to learn in a hands-on way, was just one of the many reasons she chose an Apprenticeship over university. As she puts it, "I'm getting a degree, for free, getting paid while I do it, getting on-the-job experience, and getting contacts in the area that I'm going to be working in. I feel like I've got a head start."