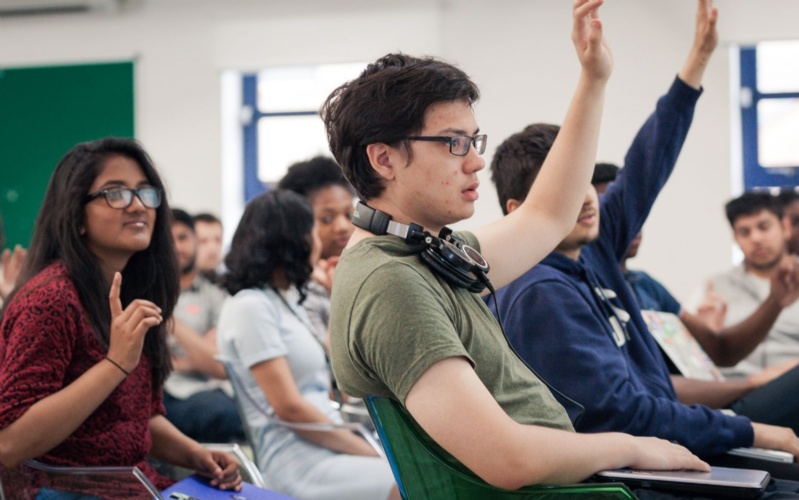 "There's nowhere else like this, that provides the same opportunities, that brings the same like-minded people together; you're not going to find anywhere else like Ada."
---
Daniel graduated from Ada, the National College for Digital Skills' Sixth Form in 2018 after studying our extended computer science BTEC (the equivalent of 3 A-Levels).
Before Daniel found Ada, he studied for a year at a regular London Sixth Form, struggling his way through the traditional A Level model, studying Computer Science A Level as well as Physics, Maths, and Media. Despite having an excellent understanding of digital and computer science, after a year feeling disillusioned with studying computer science in a very theoretical way, Daniel failed his A Levels. "I feel like when I was studying for my A levels, they just want things to stick in your head, you don't actually have to understand what it all means." Daniel explains, "I didn't get any benefit from that." Faced with the choice of retaking his A Levels, or trying an entirely new approach, Daniel chose the latter.
Enter: Ada the National College for Digital Skills.
At Ada, we focus on a learner's potential and ambition rather than their previous exam results. We met with Daniel, saw his potential straight away, and offered him a place. He chose to study Ada's rigorous extended BTEC in Computer Science which is the equivalent of three A Levels.
Daniel flourished at Ada. For the first time, he was surrounded by like-minded people, studying computer science in a practical and fulfilling way. He received a triple distinction star (the highest possible grade) for his extended BTEC, and received an unconditional offer to study games development at the Norwich University of the Arts. He's now thriving at university, "During my first year there was a lot of stuff that I already knew." Daniel explains, "I've had a head-start. I have a broader knowledge, and that comes from my time at Ada."
Reflecting on his time at Ada, Daniel explains, "There's nowhere else like this, that provides the same opportunities, that brings the same like-minded people together; you're not going to find anywhere else like Ada."