WHEN ADA ATTENDED THE ALL-PARTY PARLIAMENTARY GROUP ON DIGITAL SKILLS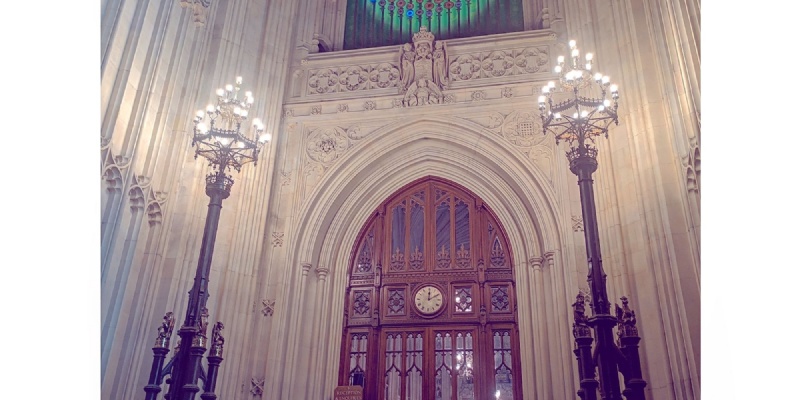 Ada, The National College For Digital Skills, has championed the improvement of young people's digital skills since our inception, so we were really pleased to be invited to the first All-Party Parliamentary Group specifically dedicated to digital skills. This meeting, held at Westminster, saw a combination of politicians and industry professionals have a round-table discussion about the problems the UK's tech industry faces, and how to solve them.
Why are digital skills so important?
James Clarke (Deputy Director for Digital Skills & Inclusion), who took part in the discussion, noted the importance of, "Giving everyone the skills they need to participate in a digital economy." We couldn't agree more. As a society, we are in the midst of what is becoming known as the 'Fourth Industrial Revolution'; meaning that more and more of the world around us relies on technology to function. If we do not teach people the skills required to use this technology, then swathes of people will find it increasingly difficult to participate in society; they will struggle to find jobs, to connect with others online, or even simply to make a doctor's appointment or do their banking.
KEY ISSUES
Digital skills to improve social mobility
One of the key issues the APPG highlighted is - as Andy Wales (Chief Digital Impact and Sustainability Officer for BT) put it- the "double disadvantage" certain people have when accessing digital skills. People such as women and girls, those from low-income backgrounds, and BAMEs, who are likely to face discrimination and barriers to success already, are then even less likely to fulfill their ambitions if they do not possess the necessary digital skills.
Digital skills to help businesses grow
Katie O'Donovan (Head of Government Affairs and Public Policy for Google) went on to explain the importance of digital skills for businesses – large or small. She noted that, overall, "Businesses that use digital skills grow twice as fast as those that don't." It's clear that not only the individuals running these businesses but also the wider UK economy would benefit greatly from the improvement of digital skills.
Digital skills to improve children's education
Perhaps the most concerning issue that was raised - and an issue that we at Ada are all-too-aware of - is the drop in the number of students studying Computer Science in schools. Mark Chambers (Director for Policy and Strategy, The Education Technology Association), pointed out to the panel that only 80,000 students currently study Computer Science at GCSE as opposed to 120,000 that studied it in 2014 when it was called ICT.
The take-home message
This APPG was the first in what we hope will be a fruitful discourse resulting in the necessary policy changes, funding, and industry input, that is sorely needed to improve the country's digital skills. What was perhaps most apparent, is the importance of government bodies and private companies working together to impact change. At Ada, this is at the very core of our learning ethos. Our apprenticeships and sixth form place academic learning on equal footing with industry experience, resulting in a well-rounded and comprehensive education in digital skills. We welcome the APPG's discussion on digital skills and are very excited to hear more from them in the future.