5 Ways to Look After Your Mental Health: Remote Learning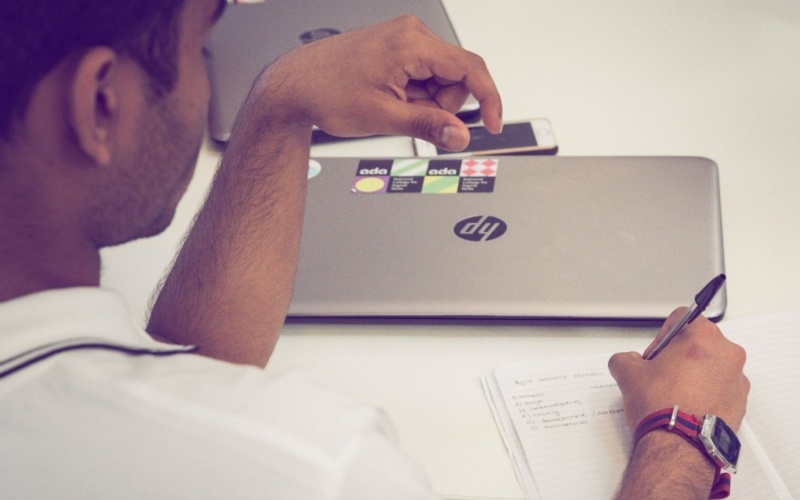 To protect our students and staff, Ada has made the decision to temporarily ask students to learn from home. This is an exciting opportunity to think about how we can continue with our education under very different circumstances. An important part of this is how we can continue to have good mental health, particularly at a time that can feel very worrying, when we may be away from friends and generally feeling a little isolated. I have compiled my favourite recommendations on how to look after your mental health while you're learning remotely. Give them a go!
1. Waking up
Although you will have some extra time in bed without a journey into college, aim to wake up around the same time every day. This helps stabilise your internal clock and improve your sleep overall. You'll feel less tired, more refreshed, and find it easier to concentrate throughout the day.
2. Setting up your workspace
Try to set aside a work area separate from your sleeping area, as this will help to prepare you for work mode and make it easier to switch off at the end of the day. You don't need a home office to do this – a small desk or table set up in a corner of your room, or set your laptop at the end of the kitchen table can do the trick. If you're working with a small space or are restricted to your bedroom, you could try setting up temporary 'zones' by hanging blankets or screens to visually separate your work area from your bed or living area.
3. Get moving
If you're not self-isolating, try going for a walk or a jog down the street before you login for the first time each day – this can help you to feel like you have mentally 'arrived' at college and will help to replace the loss of your journey to the college. Doing the same when you finish your working day can help you to leave your work mindset behind and switch off. If you're indoors, look online for an activity that suits you, such as a home yoga video or a fitness class. Some gyms are now live streaming their classes, so you could even join a fitness community in your local area. No matter what exercise you choose, try to take regular screen breaks and stretch throughout the day. Try to take a clearly defined lunch break and move away from your workspace, taking an opportunity to speak to whoever you share your home with, if possible.
4. Virtual social sessions
While we are reducing the amount of socialising, this does not mean that it has to stop altogether! Remember to use your technology to keep interacting with your friends, take virtual breaks together and have a chat, share uplifting stories so that there is positivity at a difficult time. This is an unusual and difficult time for everyone, so try your best to be patient, supportive, and kind to each other.
5. Get support
Look after yourself and set aside time to prioritise self-care. For information about mental health and coronavirus visit Mind, which has lots of information available. Everyone at Ada is here to support you throughout this time, so reach out and speak to someone. Contact a staff member that you trust via email and they will help you to get the support you need.
Here's to a happy and positive time #LearningFromHome!
---
If you're struggling with your mental health, all students at Ada have access to Kooth: a free, anonymous, online support system. Use your Ada email to register here.